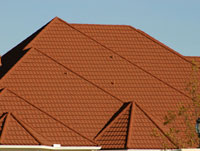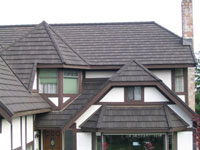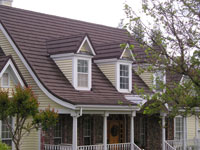 "Thank you for the beautiful roof you installed on my home, I am glad Mr. Brown recommended you. The Sun Tunnels you installed have added much needed light in the home. I do appreciate the meticulous clean up and care your crew took with regard to my yard."
Tile Roofing - Metal Tile Roofing
Conquest Stone Coat
Long Lasting Beauty
Manufactured using the finest lightweight zinc/aluminum alloy-coated steel, covered with ceramic coated stone granules and sealed with our exclusive polymer coating, the Conquest Tile or Conquest Shake™ roof will enhance your home's visual appeal and market value while protecting your investment and family.
Value & Peace of Mind
The interlocking metal roof panels provide a weather-tight barrier against the harshest elements. Each non-combustible Conquest Stone Coat panel is UL Classified Impact Resistant to Class 4 UL Standard 2218, the highest rating available. Warranted for 50 years against 120 mph winds and hail penetration, Conquest Roofing Systems provide value and piece of mind.
Save Money
You'll save money when you install a Conquest Stone Coat metal roof. This light weight roof can be installed right over your existing roof saving you the cost of tearing off and disposing of your old roof as well as the re-sheet costs.
Maintenance Free
That's right - no maintenance. Ever. No moss, no algae.
Call or use our easy on-line form to get your free roof measurement and bid then see how much you can save with a new Conquest Tile or Conquest Shake roof.